You must first finish the quest "The Blood Pact". You start it by speaking to Xenia in the Lumbridge graveyard. After you finish the quest enter the Catacombs.
Go through the Catacombs and climb down the stairs in Dragith Nurn's tomb.
Here you shall go south until you find some small red creatures named "Warped Cockroaches" (level 1). Kill them until you get "Mask Part 1".
Go east, south, east until you reach a chamber with "Crawling corpse torso" (level 7). Kill them and you shall get "Mask part 2".
You will get Mask part 3 if you go east and south until you reach the "Warped Bats" (level 12). You know what to do here.
To find Mask Part 4 go south and west until you find "Skoblins" (level 14). They will drop it.
Finally, to get the last part of the Mask go south to Dragith Nurn and attack him. You must know that he's level 20 and if you're a low level player you should have some food with you. He will attack you with all forms of combat (melee, ranged, magic). (NOTE: You will usually get the last part of the mask first drop.)
Now that you have all the parts of the mask (if you lost one go to the monster from which you got it and kill it again until you get that part) use Part 1 on Part 2 and you will create the mask. Good work!
If a player talks to Xenia while wearing the mask, she remarks on the player's ridiculous appearance.Using the mask on Xenia initiates a conversation with her, rather than evoking the message. If you die it will not appear at your grave. You will have to go through the process of re-obtaining all the parts and make a new one.
Source: www.wikihow.com
RELATED VIDEO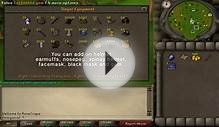 RuneScape 2007 Slayer update part 2. Slayer helmet and ...
Runescape part 2-i am rich (fish mask)
Share this Post