Quests are one of the best parts of Runescape. It's best to get in game and ask someone about the quests while you're playing Runescape but if you really don't know what to do, please use it as LAST resort.
32 quest points are needed in order to enter the champions guild, where you can buy special items that cannot be purchased anywhere else in Runescape, for example last addition is runite items. (This will also help you get better prices from the silk merchant and other NPCs)
Various rewards for completing quests are: quest points, experience for certain skills, gold, items, or access to certain Runescape items such as use of stove or forge. (Actual amount of rewards depends on difficulty of quest)
Andrew Gower (the main programmer of Runescape) asked us to tone down our quest guides, so our approach now is to give hints here and hide the actual walk through information as text you have to highlight to read. Any related maps will be provided on a separate page.
(Thanks for help Dominator)
TABLE OF CONTENTS:
Mini Quests (do not give quest point rewards)
Quests
Quests
Dragon Slayer Quest
Difficulty level: Hard
Start: To start this quest you must have access to Champions Guild and you have to talk with Guildmaster this will lead to many riddles, mazes and final battle with deadly Green Dragon.
See the SPOILERS below for more details (highlight to see them):
Start - Talk to the Guildmaster in the Champions Guild and ask about Rune Plate.
Oziach - He is located west of Edgeville(Ghost Town), and gives you the Maze key to Melzar Maze. He also tells about the shield and other two pieces.
- 3 pieces of map leading to Crandor Isle-

Map 1 (combat test) in Melzar Maze- You must collect keys from each enemy you meet, only one drops the key.

Red Key - Rat(lvl 13) That respawns in the South Western most corner, and the door to use is the North Western most one.
Orange Key - Ghost(lvl 25) that respawns South West of the latter, and the door is the one directly North of the...
Source: www.tip.it
RELATED VIDEO
Runescape classic quest - Family crest
RuneScape classic quest - Tree Gnome Village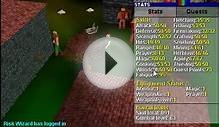 RuneScape classic quest - Biohazard
Share this Post