If you are gifted with money, then you should start by getting 55 Magic. High Alchemy (Level 55) is the waypoint level that allows for the cheapest and easiest way to get to the Magic levels that actually matter for PKing. You will notice that when you are pure and you train Magic, you should not use combat Magic spells, because they give HP that you don't necessarily need. You will get HP from melee training. Here is the order and number of spells you will have to cast, from level 1 to level 55 Magic:
Cast 31 Wind Strikes
Cast 93 Confuses
Cast 130 Weaken Spells
Cast 135 Curse Spells
Cast 1, 896 Camelot Teleport
This entails the purchase of 36 mind runes, 358 body runes, and 3, 133 law runes. In addition, you need 12, 287 air runes, 1, 665 water runes, 1, 161 earth runes, and 201 fire runes. You probably should just buy one of each elemental staff, and primarily use the water staff for the spells with the body runes, and the air staff for the teleportation spells.
Cast 1, 985 Curse Spells
This entails the purchase of 31 mind runes and 2, 245 body runes. In addition, you will need 26 air runes, 5, 159 water runes, and 6, 401 earth runes. You probably should just buy an earth staff in this case. Instead you could get a Mud staff, which grants unlimited earth and water runes. In that case, levelling your Magic this way becomes extremely cheap.
Note that if you do not wish to train your constitution while training, you may put on full iron and cast windstrikes.
Of course, there are other ways, but whatever it is, be sure to have Camelot teleport available.
Of course, there are free ways to train magic. While playing the Fist of Guthix mini-game you are given Catalytic and Elemental runes to cast magic. You are given 300 Catalytic Runes and those replace all Non-Elemental runes (Mind, Chaos, Death, Blood, etc) and you are also given 1000 Elemental Runes and those replace all Elemental runes (Air, Water, Earth, Fire). These free runes can be used to train magic efficiently. To learn more visit the Fist of Guthix guide.
3.3 - Step 2: Training your attack with quests
In the beginning, you should do all of the quests that give attack XP without defence. Training your attack at low levels is difficult, and you will be surprised how high you can get without touching a weapon. If you have done the Magic training, you should have a sufficient Magic level to make these quests a breeze. Here is a suggested order of quests:
1. Complete Vampire Slayer. This should raise your attack level to 20.
2. Complete Tree Gnome Village. This should raise your attack level to 31.The easiest way to kill the Khazard Warlord (Level 112) is to use a Dwarf Cannon, but you will have had to complete the Dwarf Cannon quest. That also costs more money. You can also simply use Magic. Start using Magic at a distance and the Warlord will move away from you, and your character will move with him. He will then come at you, at which point you can step back, and start using the spells from a distance again. Repeat until he has been defeated.
3. Complete The Grand Tree. This should raise your attack to 39. You will face a Black Demon (Level 172) during the quest, but you can easily kill him by standing behind the rocks in the dungeon, and using Magic.
4. Complete Waterfall Quest. This should raise your attack to level 42, and also your strength to 30. The hardest part is avoiding the skeletons in Glarial's Tomb. One strategy is to drop 3 lobsters before you enter the tomb. Run into the tomb, grab the urn, then go back outside and eat a lobster. Run back into the tomb, grab the amulet, and go back outside again and eat the other lobsters. The rest of the quest is a piece of cake.
5. Complete Death Plateau. This should raise your attack level to 43. More importantly, you receive the ability to buy and wear Climbing boots. Climbing boots add +2 strength bonus, and are an essential part of pure PKing gear and training.
6. Complete Fight Arena. This should raise your attack level to 45. Congratulations, you have done all of the attack training possible!
Source: www.zybez.net
RELATED VIDEO
runescape dragon slayer quest my zerker pure
Runescape 2007: Mountain Daughter Quest Guide Pure/Normal ...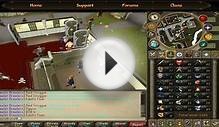 The Runescape Pure Project - Ep. #14 - Questing For Quests ...
Share this Post